Raising up A Jesus People
At Jesus School, we will gather each day to sit at the feet of Jesus. We will worship Him, learn of Him, and go out from this place of His presence to share the Gospel with the entire world by the power of the Holy Spirit. Our instructors are men and women that have surrendered their lives to Jesus and forged a path of faith to see God's will manifested through them on the earth. It is our honor and privilege to serve alongside them for this nation-shaking experience. We invite you to join us in Online as we radically pursue the heart of God! Now is the time!
Do you desire a more intimate walk with Jesus &
to go deeper in the Word of God?
Do you long to be filled with His presence and share the Gospel of Jesus? Are you seeking connection with other Jesus People? Over the last few years at Jesus School, we've gathered each day to sit at the feet of Jesus, love on Him, learn of Him, and go out from the place of His presence to share the gospel with the world. We want to see a Jesus people raised up that will shake the earth for the glory of God, which is why we started Jesus School Online and why we have updated it to be a genuine extension of Jesus School. 
Jesus School Online is a 9 month program that you can complete at home. The school year begins mid September 2022 and ends mid May 2023. In addition to the video content you will view each week, you will have required readings, assignments, discussions, and Presence Group meetings. The recorded teachings, assignments, discussions and Presence Group meetings will take approximately 10 hours per week to complete.
Each week new sessions taught by our our instructors on-campus will be available to view in your student dashboard. These teachings are the required core lessons for Jesus School courses which you will  view weekly. Please plan at least 2 hours in your schedule each week to view the teaching session videos. 
You will meet remotely with your Presence Group each week, where you will foster connection with other students and be encouraged. You will also be part of a small group discussion forum with other students about what you are learning each week.  Plan 1.5 hours in your schedule for to meet with your groups each week. 
You will follow a reading plan which will take you through the entire Bible. Additionally, you will read at least four required texts over the course of the school year. You will also have assignments associated with the readings. Plan at least 2-3 hours in your schedule each week to complete the studies.
Each week you will be growing in intimacy with the Lord and in the knowledge of His word. To pour out what the Lord is pouring in by His Spirit, you will be activated in hearing God's voice, praying for the sick, in outreach to your community, and in sharing the Gospel to those around you.
Learn from trusted men and women of God who burn for Jesus and are shaking the nations for the Gospel.
Develop a lifestyle of worship.
Additional weekly classes on prayer, Bible, and activation.
Be equipped and activated to preach the Gospel in evangelism and outreach.
Learn how to honor God, worship Jesus, and become a friend of the Holy Spirit.
Be surrounded by a community of radical Jesus lovers and get plugged into the local church.
Love Jesus with all we are, as He deserves to be loved.
Love the Word of God as the foundation of our faith.
To walk in the power of the Holy Spirit.
Love and Value our families.
To Walk in His manifest presence.
To display His miracle working power everywhere.
To share the love of Jesus with the nations.
These are just a few of the subjects we study at Jesus School: 
The Person of Jesus
Love of the Father
Person & The Work of the Holy Spirit
Worship
The Gospel
Signs, Wonders & Miracles
Old & New testament
Revival History
And More
New Testament
Old testament
Revival History
Incarnation
Devotion
Family
Healing & Deliverance
And More
MICHAEL & JESSICA KOULIANOS
Michael and Jessica Koulianos are the directors and founders of Jesus School & Jesus School Online, based in Orlando, Florida.
Michael is the founder of Jesus Image, an international ministry consisting of:
Jesus Image Church, a family of believers in Orlando, who burn for the Presence of Jesus Himself.
Jesus School, a ministry school with a mission to raise up a company of Jesus People.
Jesus Events, Which are nationwide events where thousands gather to worship and encounter Jesus.
Michael is also the author of four life- changing books, The Jesus Book, Holy Spirit: the One Who Makes Jesus Real, Jesus 365: a Daily Devotional with the Son of God, and Healing Presence: Discover the Healing Power of the Word of God.
Jessica is the Co-founder of Jesus Image and the Director of Jesus School. As the Director of Jesus School, Jessica leads with a powerful prophetic voice and a deep authenticity.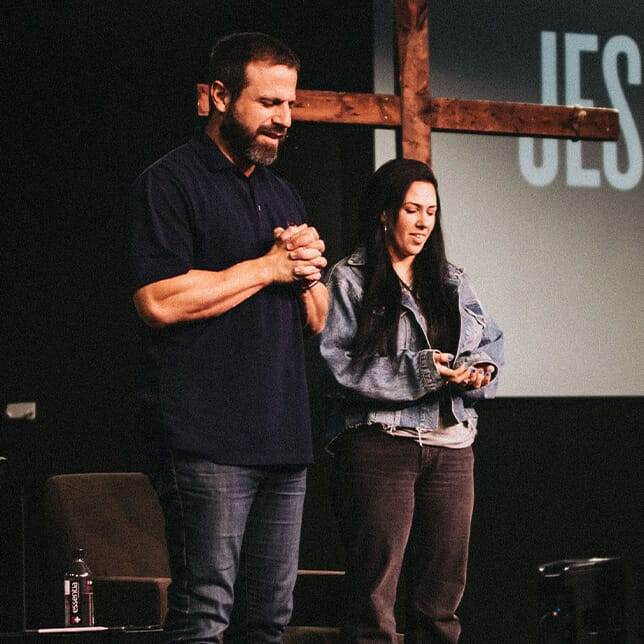 Her heart is to see each student experience new levels of breakthrough and live in pure, undivided devotion to the Lord. Jessica is also an international speaker, carrying a unique depth of wisdom and insight that releases others into an encounter with the Lord. While she loves ministering around the world, her favorite place to speak is at home with her students and church family. 
Together Michael and Jessica steward a burning desire to win cities, nations, and the world with the Gospel of Jesus Christ. Through their faithful leadership, Jesus Image has seen thousands come to Jesus and multitudes healed by the power of God. Michael and Jessica reside in the Orlando area along with their three children. 
Tuition does not include the cost of required texts.
Receive a $250 discount if paid in full by September.
1st payment due September & 2nd payment due December.
1st payment due September & 2nd payment due December.
BE A PART OF WHAT THE LORD IS DOING IN JESUS SCHOOL AND ENCOUNTER THE PRESENCE AND POWER OF JESUS FROM WHEREVER YOU ARE.
Do you have questions? We would love to hear from you.